We have work in Bangladesh to strengthen equality
Foundation for Women and Child Assistance (FWCA) is a legally constituted non-profit, non- governmental humanitarian development organization. It was established in 2004 by a number of social workers leaded by parent two number of neuro-developmental disabled child. The organization got registration in 2005. Its primary mandate is to work for the welfare of children especially children with neuro-developmental disabilities, their families, young adolescent and women for contributing social development considering its vision and mission in Bangladesh. It has been working with the neuro-developmental disabled children, their families, young adolescent girls and women in Rajshahi since 2005.   
Following the spirit of the proclamation of Independence of Bangladesh as "…equality, human dignity and social justice" and the human rights charter, the vision of FWCA is an inclusive society that will provide: • Opportunities to enhance human rights of children, men and women who have NDD, autism and other disabilities. • Specialized care and therapies through innovative technology to meet the complex needs of people with profound disabilities. • Hope, practical and emotional support to children, men and women who have NDD and other disabilities and also to their families. In the broader context of the constitution of Bangladesh, human rights charter and sustainable development, FWCA framed its mission statement as: to enhance the capacity and opportunity to executing the rights of children especially neuro-developmental disabilities, their families, disadvantaged women and young adolescent girls to empowering them socio-economically by increasing the community support mechanism following the helping and enabling process.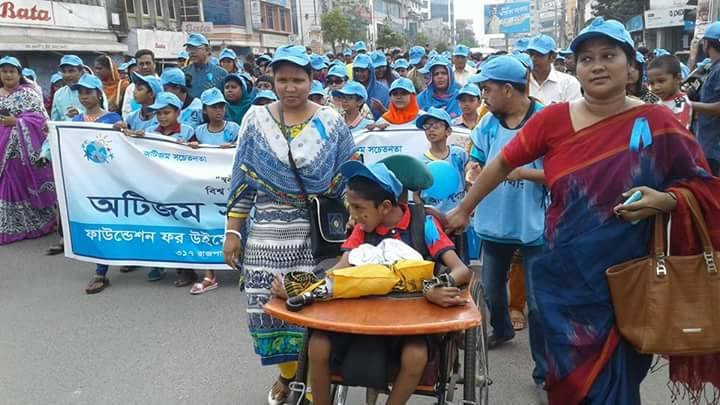 Objectives:
Legal Status:
Objectives:
Promotion and protection of Children's Rights with neuro-developmental disabilities 

 

Promotion and protection of women's human rights for able and disable by giving priority to the neuro-developmental  disabilities   

 

Increase the capacity of young and adolescent girls to execute their rights including disabilities for enhancing an inclusive society

 

Develop learning and participatory institutional management capacity

 
Legal Status: